Top Message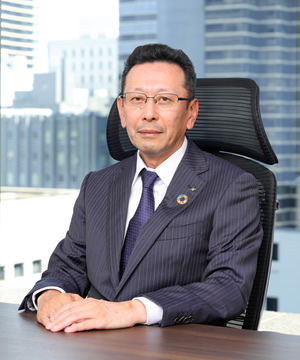 I would like to express my sincere gratitude to our shareholders for your continued support.
I am delighted to report an overview of the consolidated fiscal year (from April 1, 2022 to March 31, 2023).
During the consolidated fiscal year under review, the Japanese economy saw a normalization of economic activities as the spread of the COVID-19 subsided. Despite corporate earnings declining in the manufacturing sector, due in part to increased raw material costs as a result of the weak yen and high resource prices, the economy overall is continuing to gradually recover. Looking ahead, COVID-19-related restrictions on economic and social activities are expected to be lifted and a gradual economic recovery, driven mainly by domestic demand, is anticipated. However, the outlook remains uncertain due to risks such as rising prices, concerns about a downturn due to the slowdown in overseas economies, and an escalation of the situation in Ukraine.
Amid this business environment, the Group has been working to further strengthen our management base, and to develop and expand the sale of products that contribute to increasing our earnings.
As a result, net sales for the consolidated fiscal year were 36,838 million yen (up 10.1% from the previous year). In terms of profit, operating profit was 5,057 million yen (up 3.6%), ordinary profit was 5,389 million yen (up 5.1%), and net profit attributable to owners of parent was 4,079 million yen (up 17.5%).
The Group intends to quickly establish a foundation for further growth and to build a strong management structure to overcome the severe environment in which the Group is operating.
Finally I would once again like to thank all our shareholders for their continued support.
May 2023
NIPPON FINE CHEMICAL CO., LTD.
Representative Director, President
Hiroshi Yano